Monday, October 31, 2016 – Today Carroll Smith, the Mayor of Valley, endorsed Brigadier General (retired) Don Bacon for United States Congress.  Mayor Smith is a registered Democrat and the sixth Mayor within the district to endorse Don Bacon.
"I endorse Don Bacon for Congress.  Don served the United States Air Force for nearly 30 years and is a leader who commanded thousands of America's servicemen and women," says Mayor Smith.  "He is not a politician and will always do what is best for our country to keep it strong, instead of focusing on winning elections. I value the sanctity of life and I know Don will always fight to build a culture of life across our nation." 
"I thank Democratic Mayor Smith for his support and endorsement," says General Don Bacon. "I honor his service and leadership at Valley, and I have enjoyed getting to know him and the great citizens he represents. When I am elected, I will work with members of both parties to ensure the people of Nebraskans are being heard in Washington."    
Bacon for Congress is proud to have the support and endorsement of six mayors within the district. 
Monday, October 24, 2016 – Today, retired Brigadier General Don Bacon was unanimously approved for the endorsement of the National Vietnam & Gulf War Veterans Coalition. The Coalition consists of 70 veteran organizations and veteran advocacy groups which represent over 250,000 veterans. 
"Your leadership and patriotism are especially needed in the House of Representatives at this particular time in our history when our beloved country is at risk, not only from foreign terrorists but also from domestic advocates of extreme social and economic 'reform." said coalition Chairman John J. Molloy, OSJ. 
"I am humbled and honored to receive the endorsement of the National Vietnam & Gulf War Veterans Coalition," said Don Bacon.  "I will continue to be a strong voice for veterans care and our national security and hope to bring this message to Washington."
Today, congressional candidate and retired Brigadier General Don Bacon received the endorsement of Omaha Mayor Jean Stothert.  Mayor Stothert is serving her fourth year in the office and is the city's first woman to be elected as Mayor.
"I am proud to endorse Don Bacon for the United States Congress. As an Air Force General, Don has the national security expertise that is needed during a time when this country faces threats from every corner of the globe," said Mayor Jean Stothert.  "I am confident that when Don is elected, he will tackle Washington's out of control government spending and fight to reduce taxes so that Nebraskans can keep more of their hard earned money.  General Bacon was a strong leader in the military and I have no doubt he will be a strong leader in Congress."
"I thank Mayor Jean Stothert for her trust and endorsement.  I also thank her for her strong leadership as the Mayor of our largest city in the state," said General Don Bacon.  "I've studied leadership my whole adult life, and worked with many superb leaders during my three decades in the Air Force. Jean Stothert leads with character, strong vision, and a tremendous work ethic. Omaha is the best place to live in our nation and she continues to make it even better."
Thursday, October 13, 2016 – Today, the Council for Citizens Against Government Waste Political Action Committee (CCAGW PAC) announced its endorsement of General Don Bacon for election to the House of Representatives from Nebraska's 2nd Congressional District.
General Bacon is challenging Rep. Brad Ashford (D-Neb.).  CCAGW PAC based its endorsement of Gen. Bacon on his answers to the CCAGW PAC 2016 Candidate Questionnaire, which were consistent with the organization's principles and in harmony with CCAGW PAC's support for fiscal restraint and opposition to costly government mandates and regulations.  The candidate questionnaire can be found online atwww.ccagwpac.org/questionnaire.  Rep. Ashford's lifetime rating is only 32 percent.
CCAGW PAC Chairman Tom Schatz said, "I urge Nebraskans to vote for Gen. Bacon on November 8 so that he may join the fight to restore accountability and fiscal discipline to the nation's capital."
CCAGW PAC is affiliated with the Council for Citizens Against Government Waste, a 501(c)(4) organization.  CCAGW PAC's mission is to support political candidates who will fight to eliminate waste, fraud, and abuse in government and represent the best interests of taxpayers.
Thursday, October 13, 2016 – Today, Retired Brigadier General Don Bacon announced that fourteen additional Nebraska Sheriffs have joined Douglas County Sheriff Tim Dunning and Sarpy County Sheriff Jeff Davis in officially endorsing his bid for Congress. Douglas County Sheriff Tim Dunning, Sarpy County Sheriff Jeff Davis, and Washington County Sheriff Mike Robinson were on hand for the press conference.
"The minute I met Don Bacon, I saw a leader who was willing to take a stand," said Sheriff Tim Dunning.  "That impressed me and I was immediately on board. During a recent debate, General Bacon asked Brad Ashford if he was aware that Bellevue was one of the targets on an ISIS kill list.  Everyone watching the debate saw the deer in the headlights look on Brad Ashford's face. Considering the wide news coverage of this issue, it was shocking to realize that our representative was completely unaware and that he isn't paying attention.  Under Don Bacon's leadership, we can rest assured that he will always be up to the task when it comes to serious threats to our community."  
"I am here today representing a larger group of Sheriffs from across Nebraska in supporting Don Bacon," said Sheriff Jeff Davis.  "When Brad Ashford was Chairman of the Judiciary Committee in the Unicameral there were problems that the legislature was aware of regarding corrections that could have been addressed.  Under Brad's leadership nothing got done. Now, he is in Washington voting to close GITMO.  Public safety is everybody's job and under Don Bacon we will get the job done."
"Law enforcement has been under attack," said Sheriff Mike Robinson. "When I hear the rhetoric coming from the Clinton campaign and the silence of Brad Ashford, I had to get involved.  Our officers are protecting the public and they deserve support.  Don Bacon is the type of leader who will support our law enforcement community." 
"I appreciate the 16 Sheriffs who have come forward to support me and I appreciate the job they are doing in protecting Nebraska," said General Don Bacon.  "These law enforcement professionals protect and serve over 875,000 of our fellow citizens.  They and their deputies put their lives on the line every day and I am proud to stand side by side with them." 
The sixteen Sheriffs supporting Don Bacon include:  
Burt County Sheriff Bob Pickell, Butler County Sheriff Marcus Siebken, Cass County Sheriff Bill Bruggemann, Cedar County Sheriff Larry Koranda, Colfax County Sheriff Paul Kruse,  Cuming County Sheriff Brad Boyum, Dakota County Sheriff Chris Kleinberg, Dixon County Sheriff Don Taylor, Dodge County Sheriff Steve Hespen, Douglas County Sheriff Tim Dunning, Madison County Sheriff Vern Hjorth, Pierce County Sheriff Rick Eberhardt, Sarpy County Sheriff Jeff Davis, Saunders County Sheriff Kevin Stukenholtz, Sioux County Sheriff Chad McCumber, and Washington County Sheriff Mike Robinson
Don Bacon previously received the endorsement by the State Troopers Association of Nebraska.
Monday, October 10, 2016 – Retired Brigadier General Don Bacon, Republican nominee for the United States Congress, announced today that he has received the endorsement of University of Nebraska Regent Rob Schafer in his bid to represent Nebraska in the Second District.
"I am proud to support and endorse retired Brigadier General Don Bacon in his race for Congress," said Regent Schafer.  "Nebraskans have a unique opportunity to send a proven leader to Washington by electing Don Bacon.  As a Regent, I am proud of the work that the University has done in strengthening our country through defense partnerships, such as with the National Strategic Research Institute (NSRI).  Developing successful partnerships, like the NSRI, requires that we have solid leaders with bold visions. Don Bacon is such a leader.  By sending him to D.C., Nebraskans will elect a consistent leader with a proven track record of bringing people together to get the job done."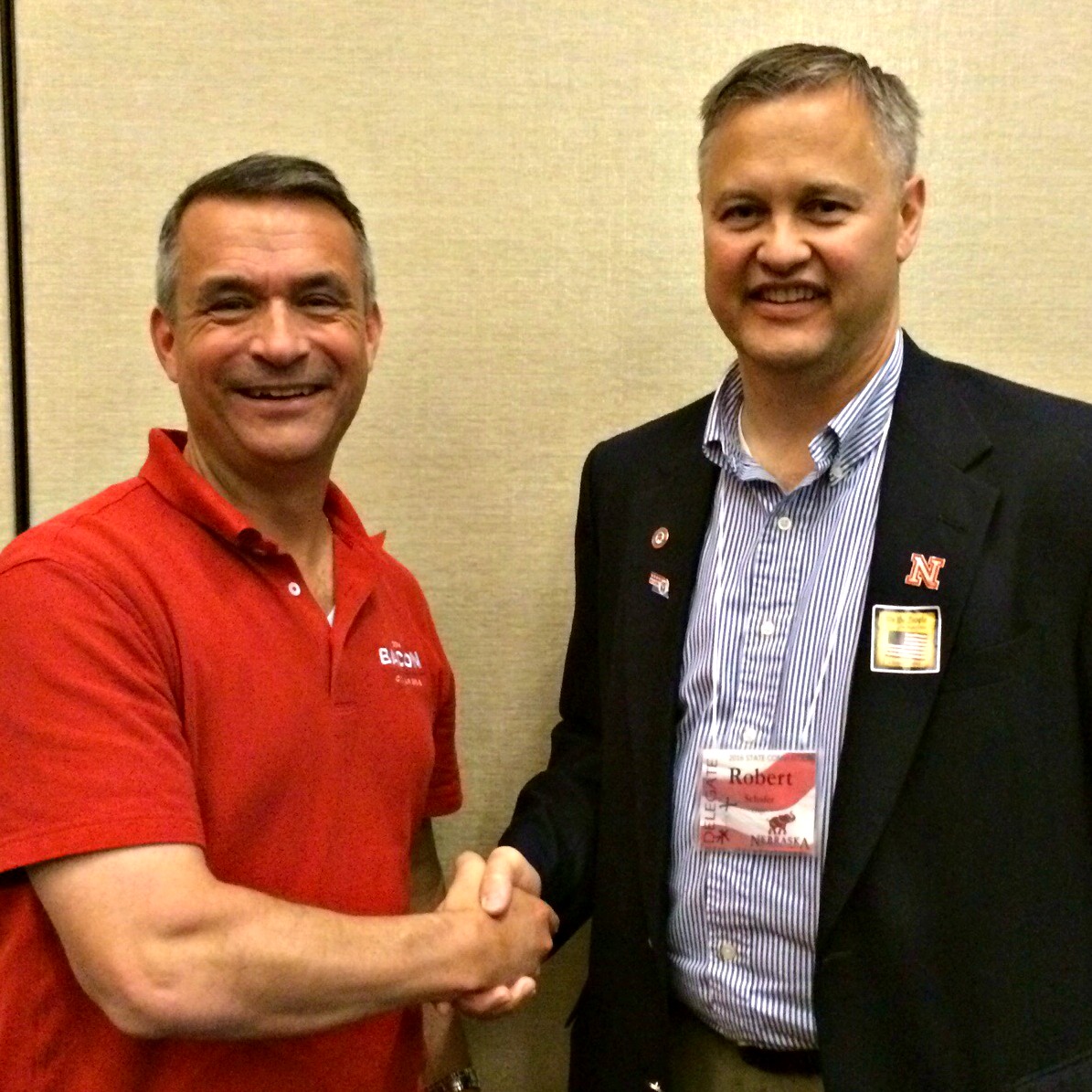 "I am honored to receive the endorsement of my fellow Airman, Regent Rob Schafer," said Don Bacon. "From his service in our National Guard to his work on behalf of our University, Regent Schafer epitomizes the phrase "Service Before Self." The Regent, like his two brothers, has dedicated his life to the citizens of Nebraska.  I look forward to working with him in the future when I represent the Second District in Congress." 
Friday, October 7th, 2016 – Today, Congressional candidate Don Bacon received the endorsement of the International Association of Sheet Metal, Air, Rail and Transportation Workers (SMART) Union – Transportation Division.  SMART-TD represents over two thousand members in Nebraska. 
"Don Bacon is that rare type of leader who can get people to rise above politics and bring them together to get the mission done," said SMART Transportation Division State Director Bob Borgeson. "Don listens to people and he has shown he can tackle the toughest problems while leading entire communities of service members, their families, and countless civilians.  When we talked to Don about our concerns regarding the need to maintain two-person railroad crews, he heard us out, studied all sides of the issue, and took a principled stand without thought of any political gain or loss.  At this critical time for our nation, it is imperative that we elect proven leaders like Don Bacon."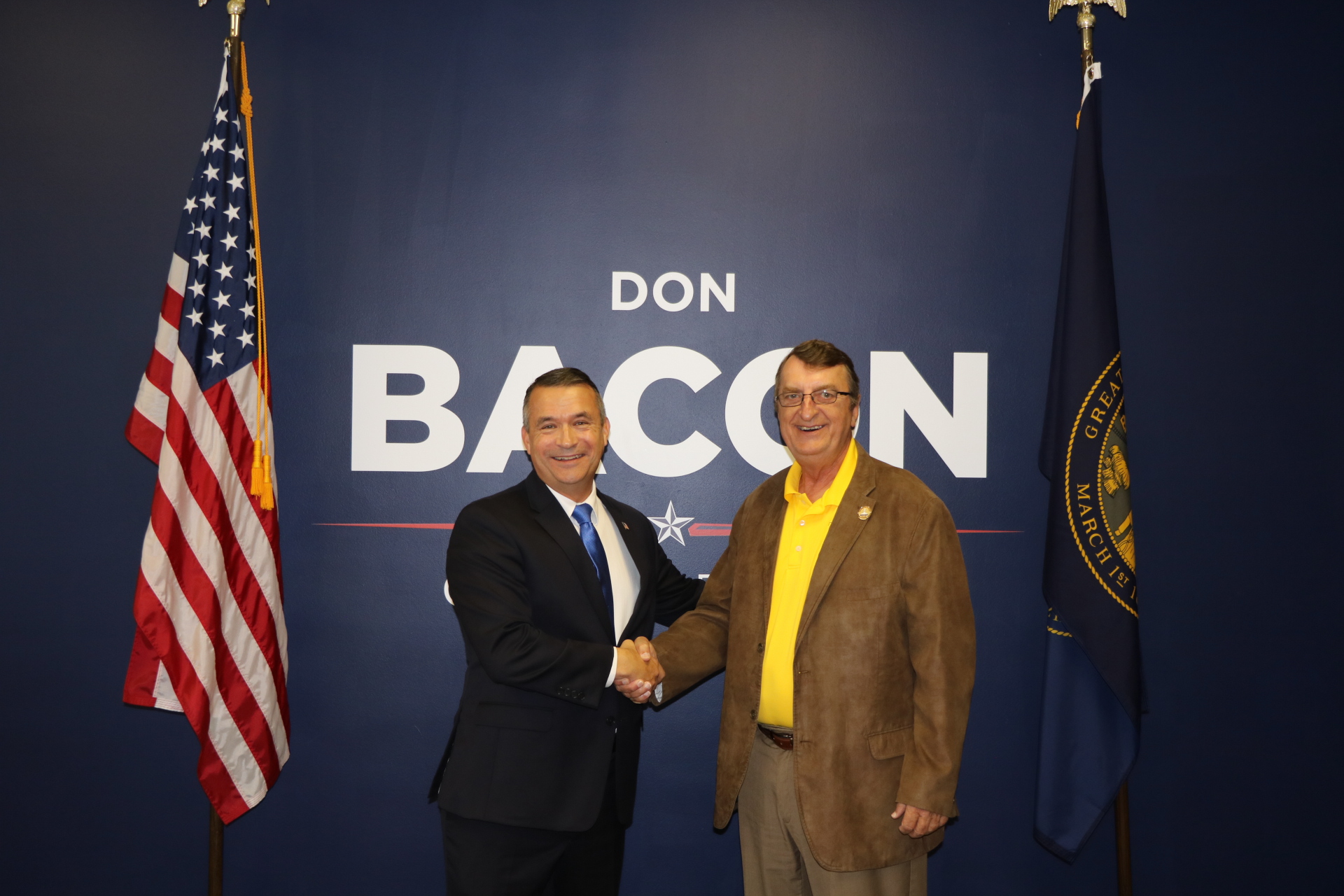 SMART Union is one North America's most diverse unions with 216,000 members and SMART-TD is the largest railroad operating union on the continent. SMART advocates for fairness and safety in the workplace, and opportunities for working class families. 
"I am honored by the support of the SMART-TD Union," said General Don Bacon. "My grandfather was a train engineer and was involved in a near fatal accident.  I know firsthand that safety is paramount and this understanding shaped my leadership in the Air Force. When I am elected to Congress, I will work to pass the Safe Freight Act which is essential to protecting the lives of countless people."
Wednesday, September 21, 2016 – Today, the Guardian Fund announced it has endorsed retired Brigadier General Don Bacon in his bid to represent Nebraska's Second Congressional District.
"Don Bacon has served his country in uniform and, now, he is willing to serve in Congress. I am proud to stand with him in his quest to enter the battlefield of ideas, and help restore the nation he risked his life defending," noted Congressman Barry Loudermilk (GA-11), Chairman of the Guardian Fund.
"It is an honor to receive the support of the Guardian Fund and I appreciate their trust," said Bacon. "The Guardian Fund has a proven track of supporting successful candidates who come from a diversity of backgrounds – candidates who truly understand the threats facing our country. When I am elected, I will fight for a stronger national defense so that we can eliminate the threat of ISIS while maintaining American leadership in the world."
The Guardian Fund is a political action committee established in 2012 by Lieutenant Colonel Allen West. The mission is to support conservative veterans and minorities seeking elected office. The Guardian Fund has assisted in the election of 21 candidates nationwide since its inception.
September 14, 2016 – Today a coalition of local veterans announced their support of Republican congressional nominee, retired Brigadier General Don Bacon. 
Veterans for Bacon is a newly formed group of Omaha area veterans who have organized to help Don Bacon secure a seat in Congress. With over seventy active members, the group continues to grow every day.
"As veterans we believe we must continue our service to this nation by working within the community to not only ensure the welfare of our fellow veterans but also to make sure our district and our values are properly represented in Washington," said Vets for Bacon leadership committee spokesperson James Frazee. "We have witnessed Mr. Bacon's ability to lead, his unwavering integrity, and his extraordinary drive to care for those within our community. It is not often we see a man of his character in politics, and we look forward to helping him achieve a victory this November.  Furthermore, as someone who has served I personally understand how important it is for our men and women in uniform to be able to hear from those who are seeking high office.  We feel that it is imperative for a debate to occur prior to the start of military balloting so that our active duty service members and their families can learn where both candidates stand on the critical issues."   
"I am extremely honored by the outpouring of support from my fellow veterans and I want to thank James, as well as all of my other supporters, for working to organize this coalition. I think the veterans are a very important part of our support base. With over 40,000 veterans in this district, we must ensure their needs are addressed because veterans' issues are very much America's issues," said Don Bacon
The Bacon campaign has been calling upon Brad Ashford to debate before military members start casting their ballots in two weeks. The Ashford campaign has only ignored these requests, depriving service members from hearing both candidates discuss district and national issues prior to military ballots being mailed in September. This latest endorsement reflects local veterans demand for change in Washington. 
Friday, August 26, 2016 – Today, in an unprecedented move, the State Troopers Association of Nebraska issued their first ever federal endorsement, declaring their support for Republican congressional candidate, (Ret.) Brigadier General Don Bacon.  Kurt Frazey, Legislative Liaison Representative of the State Troopers Association of Nebraska, made the following statement:
"Like the members of our organization, retired Brigadier General Don Bacon has defined his life by serving and protecting the citizens with both integrity and honor.  His understanding of public safety, as well as his positions on issues critical to every Trooper's professional and personal life, make him the clear choice. The citizens of our state will be fortunate to have an individual of General Bacon's caliber in such an important position. Be assured that our members stand firmly in support of the election of Don Bacon to the United States Congress."
"I am thrilled to receive this endorsement by these brave men and women who serve and protect the people of Nebraska," said Bacon. "It is an incredible honor to be the first federal candidate ever endorsed by the State Troopers Association of Nebraska.  As someone who has served in uniform, I appreciate the many sacrifices that our law enforcement make on a daily basis to protect our community.  The members of the law enforcement community put their lives on the line each day to protect our families, friends, and neighbors.  As your next Congressman from the second congressional district, I look forward to serving as a strong advocate on behalf of Nebraska's law enforcement when I am sent to Washington."