Wednesday, September 21, 2016 – Today, Republican nominee for Congress, retired Brigadier General Don Bacon, released his second TV spot for the general election featuring his wife, Angie Bacon.
The ad highlights Don's willingness to continue to serve the country following 29 years in uniform defending America.  Don Bacon is a leader who will "shake up Washington," focusing on a balanced budget, while bringing to Congress the experience and integrity of a service member.
"There's nobody that knows me better than my better half of 32 years, my beautiful wife Angie," said Don Bacon.  "Words can't express my level of excitement for Angie's appearance in our latest TV advertisement.  She's a straight shooter and sets the record straight!"
Tuesday, September 20, 2016 – Today, the Brad Ashford campaign continued the trend of contradicting itself.
Brad Ashford claimed in the Omaha World-Herald that he "is not helping or even communicating with Clinton's campaign." Source: Omaha World-Herald, September 20, 2016: http://www.omaha.com/news/politics/in-nd-district-race-ashford-and-bacon-steer-clear-of/article_ae4bd201-7791-52a5-b160-d445ffeb9441.html
However, Ashford Chief of Staff Jeremy Nordquist noted the "close cooperation between the Ashford campaign and Hillary Clinton's presidential campaign"as reported in the Omaha World-Herald during the Democrat National Convention.Source: Omaha World-Herald, July 29, 2016:http://www.omaha.com/news/politics/thursday-convention-updates-democrat-patty-judge-supports-carrots-and-gun/article_91093aa4-54e5-11e6-8c9f-e77e189312b2.html
This comes on the heels Ashford's flip-flop on the closing of Guantanamo Bay, another incident where Ashford contradicted his staff. Ashford boasted in a press release "I continue to oppose every effort of the President to close the Guantanamo Bay detention camp and I do not support any transfers of detainees," said Ashford. Source: Ashford Press Statement, September 15, 2016: https://ashford.house.gov/media-center/press-releases/ashford-votes-keep-detainees-guantanamo-bay
However, when discussing earlier votes that would have kept the detention facility open at GTMO, Ashford's campaign manager admitted that his boss voted against proposals that would have restricted President Obama's ability to transfer detainees. In the same article, Ashford admitted that his thinking has "evolved" on GTMO.  Source: Omaha World-Herald, September 16, 2016: http://www.omaha.com/news/politics/gop-ad-accuses-ashford-of-nakedly-political-reversal-on-guantanamo/article_42998ae1-60d0-5c93-a679-cdda90a44d8d.html
"Brad Ashford might be willing to be whatever someone wants him to be at the moment, but that is not leadership," said Bacon Campaign Manager Mark Dreiling. "Is Ashford coordinating closely with Clinton, or is he truly not involved? What does it say that he is a member of her Leadership Council? His lack of clarity on the matter begs further questions as to how partisan he will be in support of the liberal Clinton/Pelosi agenda should she be elected."
Monday, September 19, 2016 – Republican congressional nominee, retired Brigadier General Don Bacon issued the following statement in response to Sunday's terrorist attacks in New York, New Jersey, and Minnesota:
"I pray for the swift recovery of all those injured in these attacks, and for their families and loved ones. These terrorist attacks are a true horror that have breached our shores and the repressive ideology they bring must be met with a firm hand and swift justice. Their objective is to breed fear at the cost of innocent lives and we must not back down from this new face of terror.
We must remain vigilant during these times, we must project strength. There are perils that exist in this world and our communities are in grave danger to this blight upon the free world. This ideology that holds in contempt much of the human race is one that must be answered by the free people of this world.
A storm now moves upon our horizon, these attacks will not be the last, but the determination of the American people will always persevere."
Friday, September 16, 2016 – Today in the Omaha World Herald, Brad Ashford and his campaign once again tried to explain away his inconsistent pattern on votes concerning national security. Ashford admits to changing his mind on GTMO. While he now supports keeping it open, his campaign has stated that the previous votes for keeping GTMO "went too far" – the usual Ashford contradictory statements.
FACT: Brad Ashford claimed that we have "turned the tide" against ISIS. This statement was published on the same day that 49 Americans were killed by a homegrown terrorist who pledged allegiance to ISIS. Later that same week, CIA Director John Brennan described ISIS as a "formidable, resilient and largely cohesive enemy" whose numbers "far exceed what al Qaeda had at its height." He also went on to say that our "efforts have not reduced the group's terrorism capability and global reach."  Source: Omaha World Herald, June 12, 2015
FACT: Upon Brad Ashford's first trip to the Middle East as a Congressman he was reported as saying that "the global war on terror is the new reality." This was said despite the fact that the war on terror has been a reality for service members for over a decade. Source: Omaha World Herald, February 20, 2015
Noting that "he doesn't regret his previous votes," Ashford explains away his flip-flopping by talking about how his thinking has evolved and that he has now received briefings that have altered his positions. His statements reveal two frightening possibilities. Either Brad Ashford is just extremely naïve about our national security or he sees these issues as nothing more than political bargaining chips to be brokered for personal gain. While this might explain his three votes against and one vote for GTMO, it raises serious alarm about his readiness to lead on these critical issues.
"Our national security is too important to rest in the hands of someone who has not given up his training wheels. Now more than ever, we need leaders with real experience who have an acumen for facing America's adversaries," said Don Bacon.
Thursday, September 15, 2016 – Today, Brad Ashford highlighted his flip-flop on closing Guantanamo Bay, voting in favor of a bill to keep the facility open despite his previous votes to close it.
This type of election year gymnastics is typical for a career politician like Brad Ashford. In the past two years, Mr. Ashford voted to close GTMO three times: H.R.1735, H.R.2596, and H.R.2685.
"Career politician Brad Ashford is flip-flopping to try and extend his already lengthy political career," said Bacon Campaign Manager Mark Dreiling.  "We need decisive leaders who know how to fight and win the war on terror.  That's why Don Bacon is the clear choice for Nebraska, as he has 29 years of military leadership experience.  Career politician Brad Ashford is weak on national security and he knows it, which is why he's frantically flip-flopping, hiding behind misleading ads, and refusing to debate in September."
September 14, 2016 – Today a coalition of local veterans announced their support of Republican congressional nominee, retired Brigadier General Don Bacon. 
Veterans for Bacon is a newly formed group of Omaha area veterans who have organized to help Don Bacon secure a seat in Congress. With over seventy active members, the group continues to grow every day.
"As veterans we believe we must continue our service to this nation by working within the community to not only ensure the welfare of our fellow veterans but also to make sure our district and our values are properly represented in Washington," said Vets for Bacon leadership committee spokesperson James Frazee. "We have witnessed Mr. Bacon's ability to lead, his unwavering integrity, and his extraordinary drive to care for those within our community. It is not often we see a man of his character in politics, and we look forward to helping him achieve a victory this November.  Furthermore, as someone who has served I personally understand how important it is for our men and women in uniform to be able to hear from those who are seeking high office.  We feel that it is imperative for a debate to occur prior to the start of military balloting so that our active duty service members and their families can learn where both candidates stand on the critical issues."   
"I am extremely honored by the outpouring of support from my fellow veterans and I want to thank James, as well as all of my other supporters, for working to organize this coalition. I think the veterans are a very important part of our support base. With over 40,000 veterans in this district, we must ensure their needs are addressed because veterans' issues are very much America's issues," said Don Bacon
The Bacon campaign has been calling upon Brad Ashford to debate before military members start casting their ballots in two weeks. The Ashford campaign has only ignored these requests, depriving service members from hearing both candidates discuss district and national issues prior to military ballots being mailed in September. This latest endorsement reflects local veterans demand for change in Washington. 
Tuesday, September 13, 2016 – Several local area veterans will join retired Brigadier General Don Bacon for a special announcement tomorrow, at 10:00 a.m. at the Bacon Campaign Headquarters.
Retired Chief Master Sergeant of the Air Force James McCoy will also be in attendance and will offer remarks. Chief McCoy is the sixth Airman to serve as the Chief Master Sergeant of the Air Force.  
The media is invited to attend. 
WHEN:       Wednesday, September 14, 2016 at 10:00 a.m.
WHERE:    Bacon for Congress Campaign Headquarters
                     2819 South 125th Avenue, Suite 365
                     Omaha, NE 68144
September 13, 2016 – In a story featured on KMTV regarding the Bacon campaign's request for a debate prior to ballots being mailed for early voters and military service members, Ashford's campaign was quoted as saying "We have worked with the Bacon campaign for the last two months to find dates that worked for both candidates and did not force Brad to shirk his congressional responsibilities."
FACT: The Bacon campaign sent letters via registered mail to the P.O. Box and campaign office address of the Ashford campaign, and two of the letters were rejected and sent back without being opened.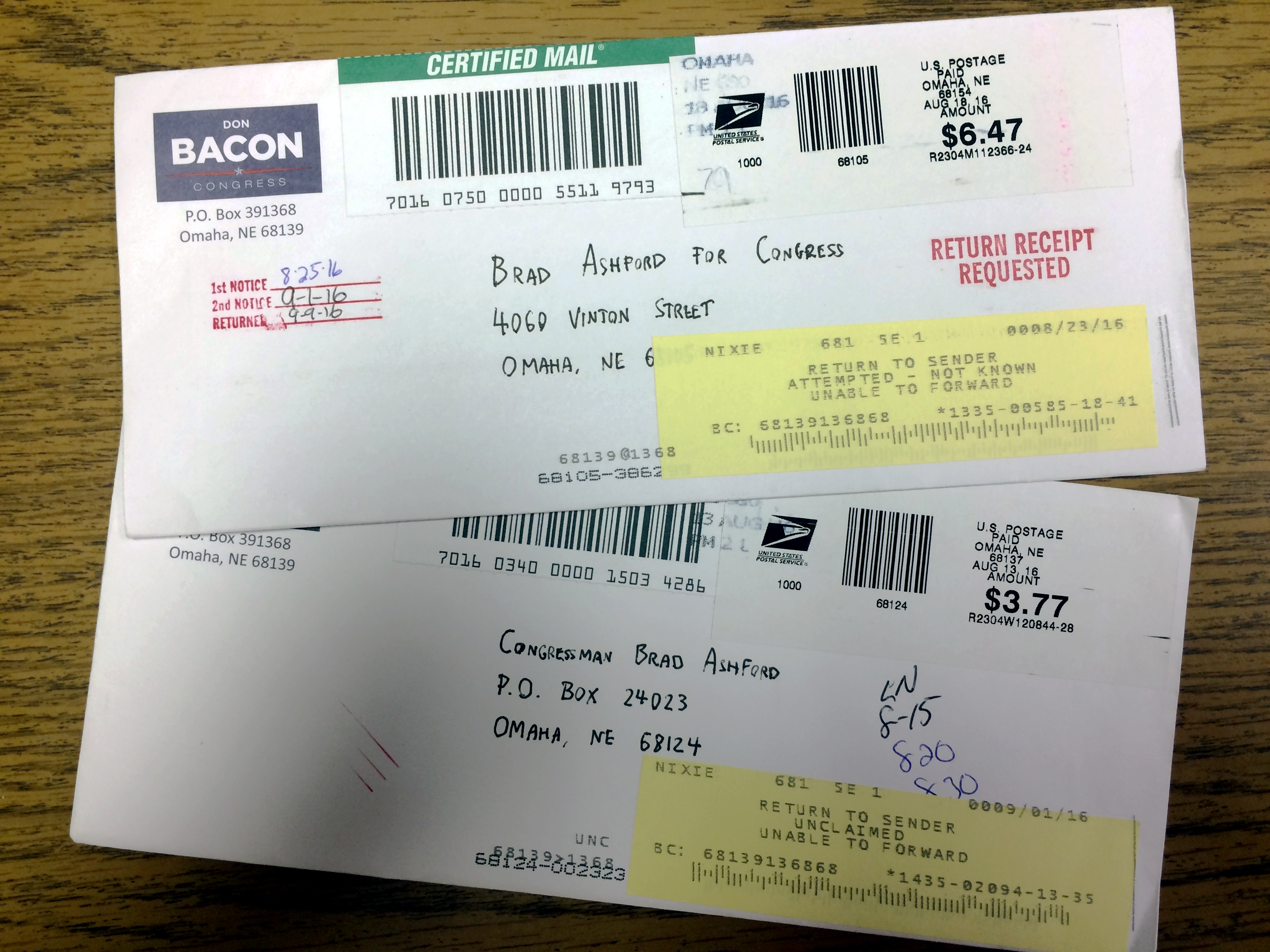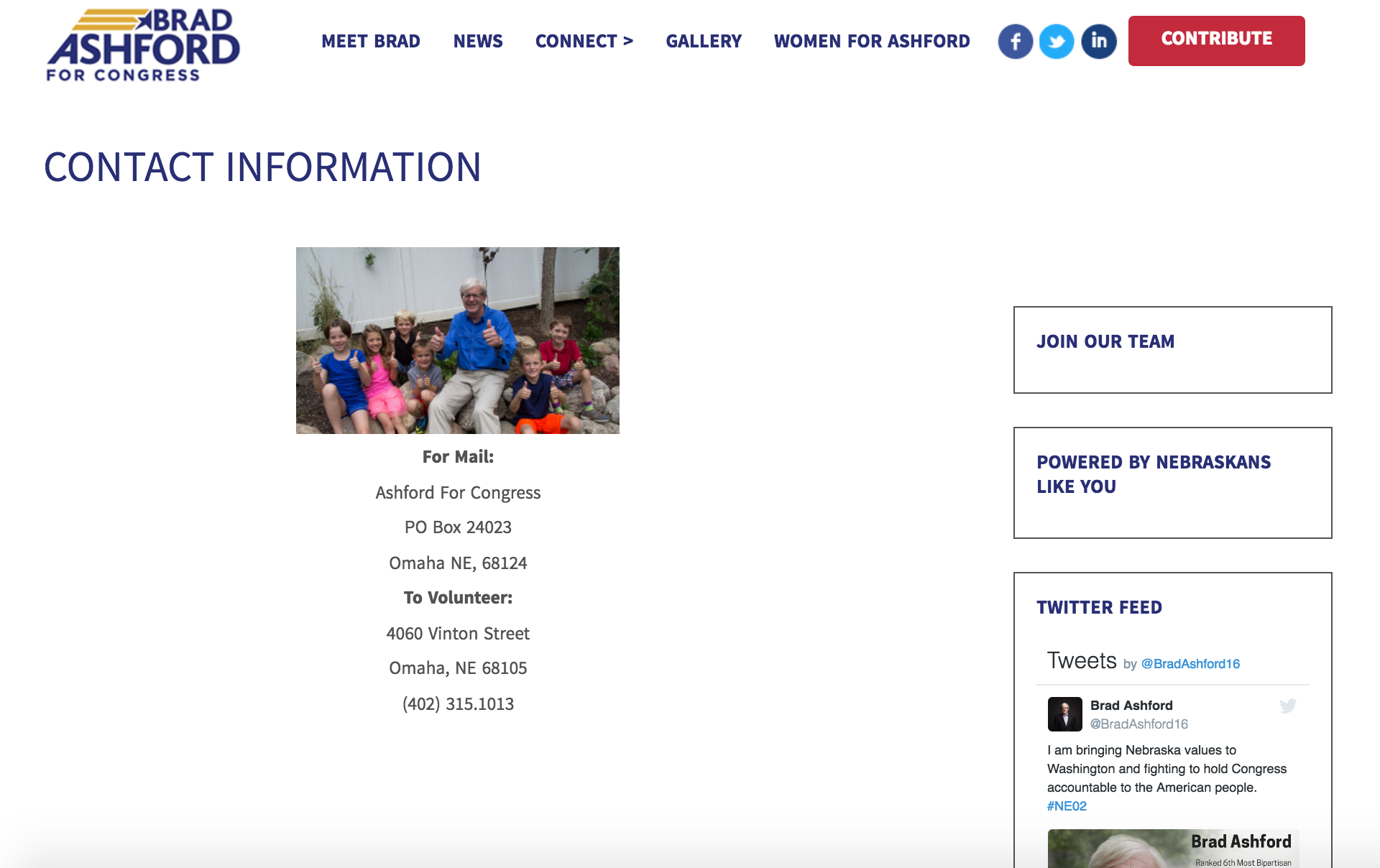 FACT: The Bacon campaign sent copies of the letter via email and never received a response.
FACT: Multiple radio stations have offered to host debates, which obviously could be called into.
FACT: An offer was made in the local media to have a taped forum prior to military balloting that would include both candidates, to which the Ashford campaign promptly rejected the suggestion during a recent meeting involving both campaigns.
"As a debate for military voters remains one of our top priorities here at the campaign, we are open to scheduling a debate at Mr. Ashford's convenience so that we do not disturb his congressional responsibilities," said campaign manager Mark Dreiling. "With this being said, we have taken every effort to open a dialogue with the Ashford campaign, a process that has proved to be unsuccessful. Consequently, we must assume that Ashford's campaign is simply unconcerned about providing our men and women in uniform with a debate prior to them casting their ballots.
Though he may not feel obliged to address the chief concerns of early voters in this district, to ignore them speaks volumes.  Is it too much to ask, that Mr. Ashford sacrifice a mere hour of his time for those deployed that sacrifice so much in the service of this nation? They deserve the audience of both candidates discussing the issues most important to them and their families."
Monday, September 12, 2016 – With a little over ten days until military ballots are mailed, and with the willingness of Don Bacon to meet with Brad Ashford in a debate forum, there are still no debates scheduled between Don Bacon and Brad Ashford during the month of September. In a meeting earlier in the month regarding one of the October debates, the Ashford campaign begged off participating in debates prior to military voting with the explanation that the Congressman lacks the time on his schedule. However, instead of taking the opportunity to debate Bacon as recently as this last weekend, Ashford instead opted to attend the Saint Joan of Arc Sausage Fest.
"As someone who has been deployed to Iraq during a critical election, I find it insulting that Brad Ashford and his campaign are completely unwilling to meet in a public forum prior to the first military member mailing in their ballot," said Bacon. "Part of taking care of our troops means making yourself accessible for them, especially when it comes to important forums such as debates in an election year. The military community deserves better than this."
We remember this day of horror when the bold blue skies of New York City were set aflame, when a passenger plane broke upon the Pentagon, when a small group of brave people resisted their hijackers and sacrificed themselves to save so many more.
We remember those countless souls lost, the heroes that fought the grit and flames, racing towards a folded concrete tomb to pull from twisted steel – the survivors.
We remember this day of supreme sadness – this calm autumn day that exposed us first hand to the evils of the world, and yet within the chaos, we found each other and pulled together as one nation. As one people, we showed the world that even in the worst of times, the best of humanity will always persevere.