Tonight, during the KMTV and Omaha World-Herald, retired General Don Bacon dominated the debate while Brad Ashford experienced a total meltdown and didn't even know Bellevue, a city in his own district is on the ISIS kill list:
"Don Bacon clearly showed that he is a proven leader and has the experience and knowledge necessary to keep Nebraskans and the country safe," said Don Bacon spokesperson Camille Gallo. "It's embarrassing and extremely concerning that Brad Ashford didn't even know that Bellevue, a city in his district is on the ISIS kill list. This fact has been made public by the debate host KMTV for almost one year. How can Nebraskans expect Brad Ashford to keep them safe when he doesn't even know ISIS is watching his own backyard?"
Today, retired Brigadier General Don Bacon, Republican nominee for Congress in Nebraska's Second Congressional District, announced that his campaign has raised $525,000 in the last quarter. 
"I am so grateful to our contributors and our volunteers.  We had over 1,600 people donate to our campaign, and I thank each and every one," says General Bacon.  "I also appreciate our 150 volunteers who are running the best ground game in the country. The continued enthusiasm for my campaign shows that Nebraskans are tired of career-politicians and are looking for a real leader who will stand up to the political class and shake up Washington.  I've defended America for nearly 30 years in the military and will always put country before partisan politics."
Monday, October 10, 2016 – Retired Brigadier General Don Bacon, Republican nominee for the United States Congress, announced today that he has received the endorsement of University of Nebraska Regent Rob Schafer in his bid to represent Nebraska in the Second District.
"I am proud to support and endorse retired Brigadier General Don Bacon in his race for Congress," said Regent Schafer.  "Nebraskans have a unique opportunity to send a proven leader to Washington by electing Don Bacon.  As a Regent, I am proud of the work that the University has done in strengthening our country through defense partnerships, such as with the National Strategic Research Institute (NSRI).  Developing successful partnerships, like the NSRI, requires that we have solid leaders with bold visions. Don Bacon is such a leader.  By sending him to D.C., Nebraskans will elect a consistent leader with a proven track record of bringing people together to get the job done."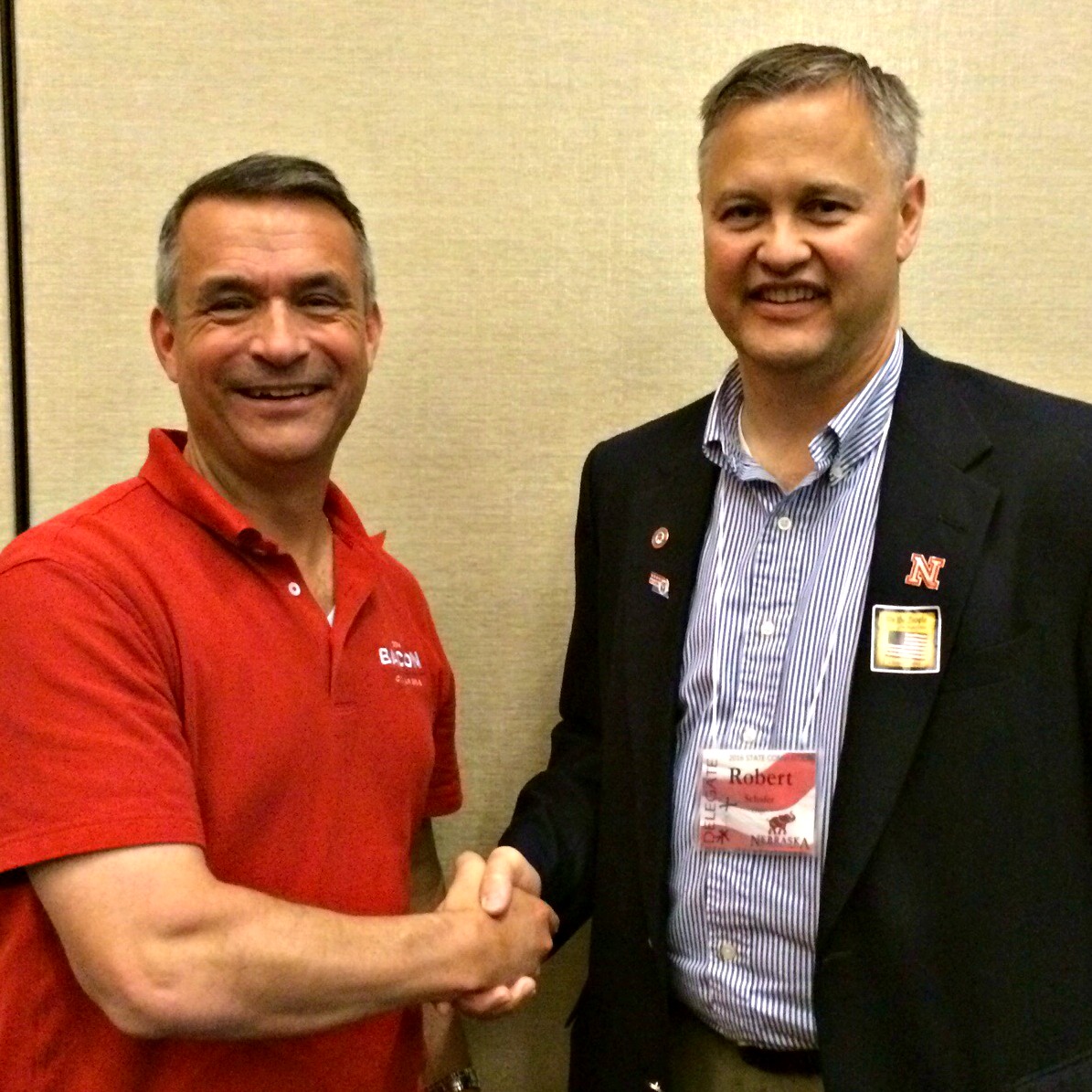 "I am honored to receive the endorsement of my fellow Airman, Regent Rob Schafer," said Don Bacon. "From his service in our National Guard to his work on behalf of our University, Regent Schafer epitomizes the phrase "Service Before Self." The Regent, like his two brothers, has dedicated his life to the citizens of Nebraska.  I look forward to working with him in the future when I represent the Second District in Congress." 
Friday, October 7th, 2016 – Today, Congressional candidate Don Bacon received the endorsement of the International Association of Sheet Metal, Air, Rail and Transportation Workers (SMART) Union – Transportation Division.  SMART-TD represents over two thousand members in Nebraska. 
"Don Bacon is that rare type of leader who can get people to rise above politics and bring them together to get the mission done," said SMART Transportation Division State Director Bob Borgeson. "Don listens to people and he has shown he can tackle the toughest problems while leading entire communities of service members, their families, and countless civilians.  When we talked to Don about our concerns regarding the need to maintain two-person railroad crews, he heard us out, studied all sides of the issue, and took a principled stand without thought of any political gain or loss.  At this critical time for our nation, it is imperative that we elect proven leaders like Don Bacon."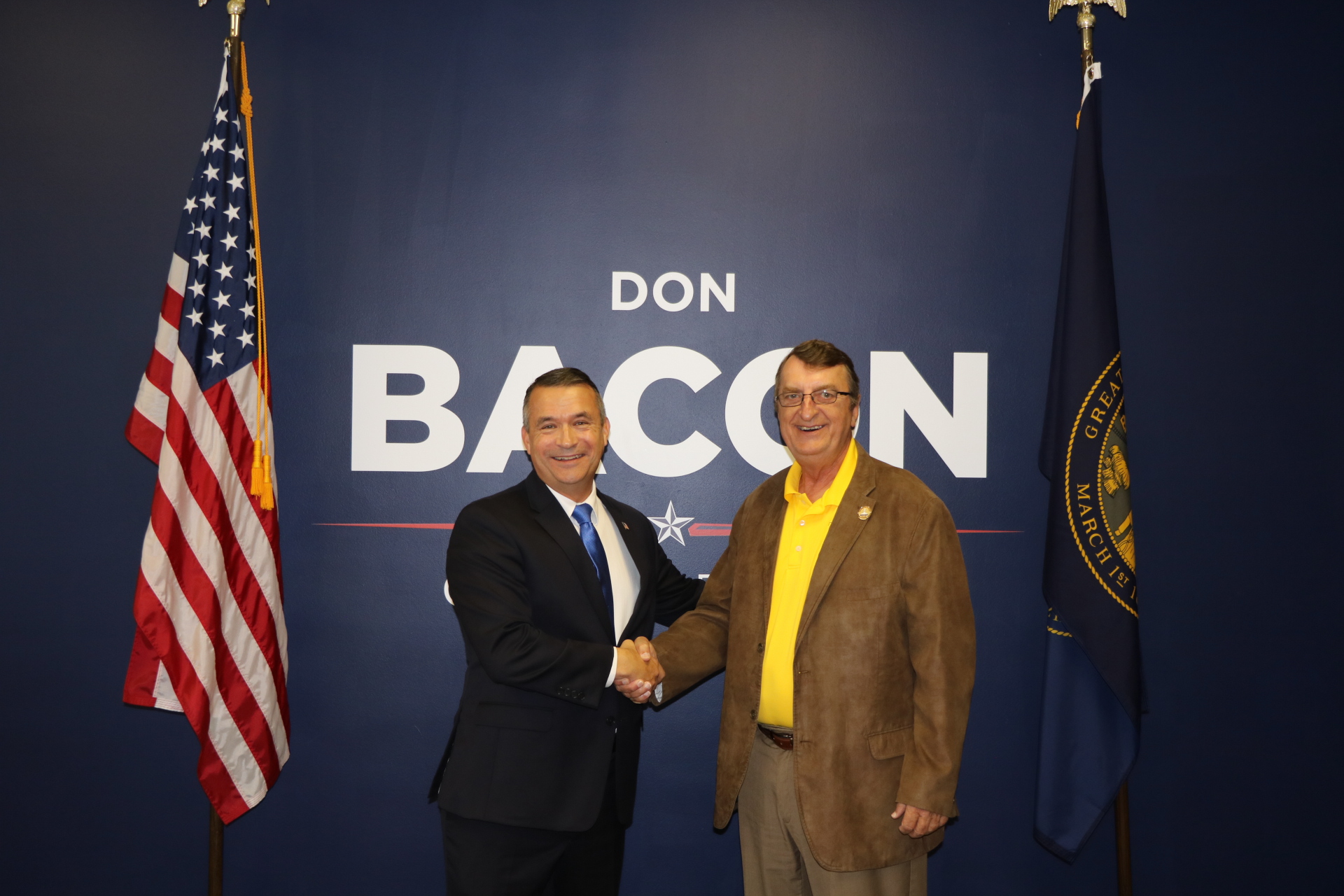 SMART Union is one North America's most diverse unions with 216,000 members and SMART-TD is the largest railroad operating union on the continent. SMART advocates for fairness and safety in the workplace, and opportunities for working class families. 
"I am honored by the support of the SMART-TD Union," said General Don Bacon. "My grandfather was a train engineer and was involved in a near fatal accident.  I know firsthand that safety is paramount and this understanding shaped my leadership in the Air Force. When I am elected to Congress, I will work to pass the Safe Freight Act which is essential to protecting the lives of countless people."
Thursday, October 6, 2016 – Today, 2nd District congressional candidate General Don Bacon released his third TV spot for the general election.
The ad highlights the oath General Bacon swore to the Constitution when entering the military over thirty years ago, which he will continue to uphold as a representative for Nebraska's 2nd District.  Don is leader who will always defend the Constitution and keep the country safe from threats both at home and abroad.  
"General Don Bacon swore an oath to defend this country when he entered the military and he will continue to uphold that pledge in the halls of Congress," said Don Bacon for Congress spokesperson Camille Gallo.  "General Bacon has seen the real threats that face our nation and will always put country before politics."
Tuesday, October 4, 2016 – Today, the Don Bacon for Congress campaign launched a new website to fact-check career politician Brad Ashford's hypocritical voting record.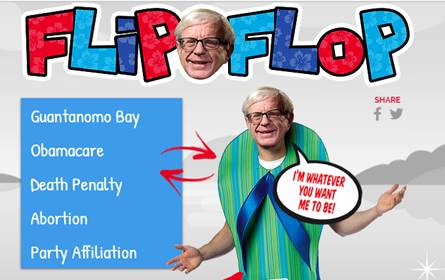 Voting three separate times to close GITMO, but now suddenly saying he opposes all of President's Obama efforts to close the detention center.
Telling voters he would have never voted for Obamacare, but then voting against repealing the disastrous law to score brownie points with Nancy Pelosi. Laughably, Brad is now trying to flip-flop again with a TV ad bashing Obamacare.
Brad Ashford can tell voters he'll be "whatever you want me to be" all day long, but with a spineless voting record like this he won't be their congressman for much longer.
Don Bacon for Congress Comment:
"Brad Ashford is a typical desperate politician who will flip flop on any policy just to save his own job. Nebraskans deserve a representative, like General Don Bacon, who will stand strong on tough issues, not stumble around like Brad Ashford."
– Camille Gallo, Don Bacon for Congress Spokesperson
Thursday, September 29, 2016 – Today, Brad Ashford released yet another misleading television advertisement, this time running an ad where he retreats from his passionate support of Obamacare.
Ashford has repeatedly voted against ending Obamacare. He even bragged to a liberal audience that he "wouldn't vote 47 times to repeal" Obamacare. (Source: Nebraska Watchdog, Monday, April 7th, 2014)
The recent departure of Blue Cross Blue Shield of Nebraska from the ACA's individual insurance marketplace provides further proof that Obamacare is a failure for Nebraska and can't be fixed with band-aid solutions.
As usual, liberal career politician Brad Ashford wants to be all things to all people," said Bacon Campaign Manager Mark Dreiling. "When in Washington, he wants to be Mr. Popularity, standing behind Nancy Pelosi in protecting a failed law. When in Nebraska, he tells a different story with misleading ads. Unfortunately for Ashford, it is not his words that matter. What matters are the votes he casts to sustain a law that is now depriving over 20,000 Nebraskans of their individual healthcare coverage. No matter how fast he runs, he can't escape the truth of his actions."
And while Ashford runs a TV spot that bashes Obamacare, General Don Bacon is simultaneously attacked by the DCCC in advertising for OPPOSING Obamacare, as recently revealed in the Omaha World-Herald. (Source: Omaha World Herald, Saturday, September 24, 2016)
"Once again, the DCCC should be ashamed of itself for its desperate attempts to smear Don Bacon. While Brad Ashford changes his tune on Obamacare and runs an ad bashing it, the DCCC continues to attack Don Bacon for opposing the Obamacare disaster. I call on Brad Ashford to immediately condemn the DCCC ad," said Dreiling.
Tuesday, September 27, 2016 – Recent attack ads sponsored by the DCCC, to include a new ad on radio, have distorted Don Bacon's platform by implying that he supports an immediate increase in retirement age while cutting Social Security.
To clarify, Don Bacon does not support altering or reducing Social Security for those who are currently in or near retirement. With the average life expectancy increasing in the United States, he is of the opinion that we should consider the possibility of adjusting current long-term policies to ensure the viability of Social Security for future generations. Like many lawmakers on both sides of the aisle, Don Bacon believes that we need to consider such solutions in order to maintain the solvency of Social Security.
These attack ads also attempt to scare people by falsely claiming that Don Bacon wants to raise prescription drug prices because he opposes Obamacare. While Ashford and the DCCC continue to rely on these scare tactics, they forget to acknowledge the fact that 20,000+ people are losing their health insurance after Blue Cross and Blue Shield of Nebraska announced last week their decision to leave the individual insurance marketplace.  The departure of Blue Cross is further evidence that Obamacare is a failure and can't be fixed – a law Brad Ashford has voted in favor of keeping
"We are all aware that the program will eventually go bankrupt if no adjustments are made," said Bacon. "Leaders solve problems and don't demagogue an issue without a solution. We have yet to hear Brad Ashford offer a viable fix, and social security will fail in the future without leadership."
Monday, September 26, 2016 – In the Omaha World-Herald on Sunday, September 25, 2016, Brad Ashford bemoaned the partisanship of Washington, saying "these people are crazy" when describing fellow members of congress.
However, it was reported in the same article that Ashford "stands by his support for Pelosi and for the [Democrat] party" since they "were the ones who helped him achieve his longtime dream" of being a Congressman.
Ashford double-downed on his strong support for the former Speaker by saying "I don't have to agree with Nancy Pelosi on anything, really, in order to vote for her for Speaker." In response, retired Brigadier General Don Bacon released the following statement:
"Nebraska citizens deserve better than a person who will vote for one of the most extreme left politicians for Speaker of the House because she and the Democrat Party helped him achieve his dreams. 
Roughly twenty-thousand of our fellow Nebraskans are losing insurance coverage because of the actions of Nancy Pelosi in pushing through Obamacare. If Brad Ashford has his way, Pelosi will once again lead Congress and that would result in more federal government spending and debt, more bureaucracy and regulations hurting our small businesses, and more government control of our healthcare and everyday decisions.  
In my previous line of work, we lived by an ethic of putting service before self.  Doing this requires of one that they do the right thing and stand to be counted when things get tough.  We need a Congressman who knows that Pelosi as Speaker of the House is bad for America."
Wednesday, September 21, 2016 – Today, the Guardian Fund announced it has endorsed retired Brigadier General Don Bacon in his bid to represent Nebraska's Second Congressional District.
"Don Bacon has served his country in uniform and, now, he is willing to serve in Congress. I am proud to stand with him in his quest to enter the battlefield of ideas, and help restore the nation he risked his life defending," noted Congressman Barry Loudermilk (GA-11), Chairman of the Guardian Fund.
"It is an honor to receive the support of the Guardian Fund and I appreciate their trust," said Bacon. "The Guardian Fund has a proven track of supporting successful candidates who come from a diversity of backgrounds – candidates who truly understand the threats facing our country. When I am elected, I will fight for a stronger national defense so that we can eliminate the threat of ISIS while maintaining American leadership in the world."
The Guardian Fund is a political action committee established in 2012 by Lieutenant Colonel Allen West. The mission is to support conservative veterans and minorities seeking elected office. The Guardian Fund has assisted in the election of 21 candidates nationwide since its inception.